Test Mas Negro Que La Noche 3D Blu-ray 3D - Review
***TEST DISPONIBLE

PROCHAINEMENT !

***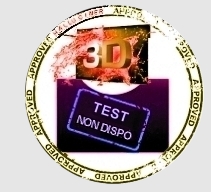 Titre Blu-ray 3D
Mas Negro Que La Noche 3D Blu-ray 3D
Type de 3D
NA
Date de sortie
US : TBA
FR : TBA
Format
Version testée
NA
Région
Audio : Anglais
Audio : Français
Appréciation Globale 3D
????
Introduction :
When four women move into an old house left by one woman's aunt, strange things begin to happen. Bizarre voices, visions of ghosts, and mysterious noises lead them to discover the darkest powers of evil and a horror and agony beyond terror.
Image & profondeur :
?
Jaillissements :
?
Bilan 3D :
?
mercredi, novembre 26, 2014