Test Appetite For Democracy 3D: Live at the Hard Rock Casino- Las Vegas Blu-ray 3D
***TEST DISPONIBLE

PROCHAINEMENT !

***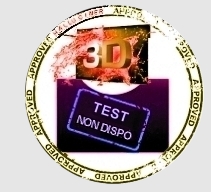 Titre Blu-ray 3D
Appetite For Democracy 3D Blu-ray 3D
Type de 3D
3D Native
Date de sortie
US : Dispo
FR : TBA
RU : TBA
Format
Version testée
NA
Région
Audio : Anglais
Audio : Français
Appréciation Globale 3D
????
Introduction :
Appetite For Democracy 3D: Live at the Hard Rock Casino - Las Vegas, will be available on Blu-ray™, featuring the complete concert film in both 3D and 2D plus an interactive 3D photo gallery, and standard DVD featuring the 2D version of the film. Both releases are mixed in 5.1 Surround Sound and feature bonus interviews with the band.
Image & profondeur :
?
Jaillissements :
?
Bilan 3D :
?
mercredi, novembre 26, 2014