Test Justin and the Knights of Valour 3D Blu-ray 3D - review

***TEST DISPONIBLE

PROCHAINEMENT !

***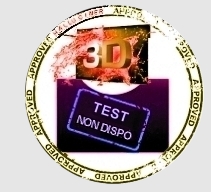 Titre Blu-ray 3D
Justin and the Knights of Valour 3D
Blu-ray 3D
Type de 3D
3D Native
Date de sortie
UK : 03/02/14
FR : TBA
Format
Version testée
NA
Région
Audio : Anglais
Appréciation Globale 3D
????
Introduction :
Justin (Freddie Highmore) dreams of becoming one of the Knights of Valour, but his father Reginald (Alfred Molina) wants him to follow in his footsteps and become a lawyer. After an inspiring visit to his beloved grandmother, he bids farewell to his supposed lady-love Lara, and embarks on a quest to become a Knight. Along the way he meets the beautiful, feisty Talia (Saoirse Ronan), a quirky wizard called Melquiades (David Walliams) and the handsome Sir Clorex (Antonio Banderas), who teach and test him in the ancient ways of the Knights of Valour. Soon, Justin must rise to the challenge when banished former knight Sir Heraclio (Mark Strong) and his army return and threaten to destroy the Kingdom.
Image & profondeur :
?
Jaillissements :
?
Bilan 3D :
?
mercredi, février 19, 2014