Test Red Sky 3D Blu-ray 3D - Review

***TEST DISPONIBLE

PROCHAINEMENT !

***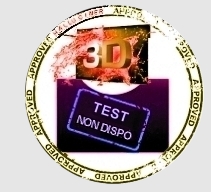 Titre Blu-ray 3D
Red Sky 3D
Blu-ray 3D
Type de 3D
NA
Date de sortie
US : TBA
FR : septembre 2014 ?
Format
Version testée
NA
Région
Audio : Anglais
Audio : Français
Appréciation Globale 3D
????
Introduction :
Disgraced Top Gun fighter pilot Butch Masters leads a rogue squad in recovery of a WMD. Masters must navigate a fractured friendship, a love triangle, and must take to the skies to reclaim his military and personal honor.
Image & profondeur :
?
Jaillissements :
?
Bilan 3D :
?
mercredi, janvier 29, 2014