Test Ocean Giants 3D Blu-ray 3D review
***TEST DISPONIBLE

PROCHAINEMENT !

***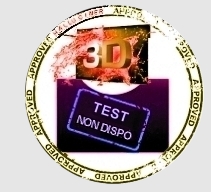 Titre Blu-ray 3D
OCEAN GIANTS 3D Blu-ray 3D
Type de 3D
NA
Date de sortie
US/UK :

16/12/13

Format
Version testée
NA
Région
Audio : Anglais
Audio : Français
Appréciation Globale 3D
????
Introduction :
Until today, the seas are remained the beauty and mistery of the world far away from the civilization. Beyond the sea surface to deepness in the pristine and untouched inside, OCEAN GIANTS 3D will kidnap you. Amazing 3D images of the giants of the seas from the majestic whales, the gentle manatee to the most dangerous animals of the sea, the sharks and many other creatures that you have never ever seen before. This film was made by a REAL 3D method you can play and watch it in 3D and also in FULL HD.
Image & profondeur :
?
Jaillissements :
?
Bilan 3D :
?
dimanche, février 03, 2013