Mortadelo y Filemón contra Jimmy el Cachondo 3D Blu-ray 3D
***TEST DISPONIBLE

PROCHAINEMENT !

***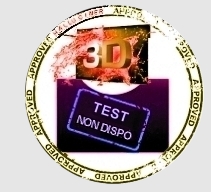 | | |
| --- | --- |
| Titre Blu-ray 3D | Dates de sorties |
| Mortadelo y Filemón contra Jimmy el Cachondo 3D (ES) | ES : 20/03/15 |
| Mortadelo y Filemón contra Jimmy el Cachondo 3D | FR : TBA |
| | |

| | |
| --- | --- |
| Vidéo | Audio |
| 3D Native | Espagnol |
| | |
| | |
| | |
En vente sur :



| | |
| --- | --- |
| Matériel de Test 3D | Infos Test 3D |
| -VP DLP 3D 1080p Optoma HD83 | Testé le : NA |
| -VP DLP 3D 720p GT720 + 3DXL | NA |
| | |

Synopsis :
Mortadelo and Filemon are the most valuable superspies in the TIA (the secret government agency), charged with solving the crimes that no other spy can...or rather, bungling situations like no one else can. In order to see their tough missions through, Mortadelo and Filemon make use of disguises as well as bizarre -and pretty much useless- inventions that together with their original smarts turn the missions into romping fun adventures never-before-seen in the world of espionage.
INTRODUCTION :
TEST DU BLU-RAY 3D PROCHAINEMENT !
lundi, avril 20, 2015